When you set out to obtain a new car, truck, or SUV, there are essentially two options available to you. You can either buy or lease a vehicle. There are a lot of reasons why people choose to lease a vehicle, especially when one looks at the deals and programs available through Honda.
If you're in the areas of Dublin, Eatonton, or Milledgeville, GA, outstanding incentives and deals are nearby. Learn more about getting a competitive lease deal on a Honda.
Honda Lease Deals near Milledgeville GA
Honda lease deals through the Honda Financial Services program are a great way to get behind the wheel of a new Honda car, truck, or sport utility vehicle. The Honda Leadership Leasing program offers top interest rates, flexible terms, customizable mileage allowances, and special coverage and waivers to give you extra peace of mind.
Honda Leadership Leasing
Honda Leadership Leasing allows you to access a range of different vehicles, including new and certified pre-owned (CPO) vehicles. It allows you flexible lease terms. You can lease your vehicle anywhere from 24 months to 60 months, and you can choose a 12,000- or 15,000-mile per year mileage allowance. You can also purchase additional miles when you sign your lease.
Every lease comes standard with GAP insurance coverage to protect you in the case of a serious accident, as well as a $500 to $1,000 excess wear and tear waiver. You can even lock in the purchase price for the end of your lease in case you decide to buy the car. There are also many special programs available through Honda Leadership Leasing, including those for recent college graduates, military veterans, and more!
Leasing vs Buying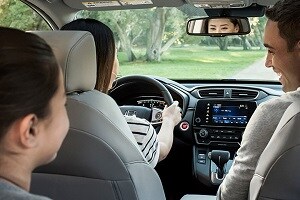 Depending on your needs and lifestyle, leasing can be an outstanding alternative to buying a car. When comparing leasing vs. buying a car, the car payments that a lessee pays will be significantly less than a buyer's. Leasing a Honda also means that during the time of your lease, the car should be under factory warranty, and potentially even a plan that pays for the cost of routine vehicle maintenance.
Honda Leases at Butler Honda
If you're in the areas of Milledgeville, Dublin, GA, or Eatonton, and you'd like more information about Honda lease deals, start at Butler Honda. Check out our library of current lease deals and stop in today to check out our full range of Honda cars, trucks, and SUVs.