Oil changes are the heart and soul of a preventative routine maintenance plan-and it's easy to see why: Staying up to date on your car's oil changes can vastly increase the lifespan and performance of your ride.
While we know oil changes are important, it's not always clear when and how often they should be taking place. How often should you change your oil? Drivers in Eatonton, Sparta, and Milledgeville can learn more about their oil change interval, and where to find professional automotive assistance and service below.
How Often to Change Oil
Many vehicles today can go longer than 3,000 miles before an oil change is required, especially modern cars that run on synthetic oil (consult your owner's manual for your manufacturer's recommended oil type and interval).
How often the oil should be changed in your car depends on a few different factors, like your driving style and most traveled routes. Your oil might need to be changed every 5,000 miles, 6,000 miles, or even 10,000 miles based on your vehicle and driving habits. As a rule of thumb, though, you should never exceed 10,000 miles of driving between oil changes.
How to Know When to Change Oil
Again, the best way to know it's time to change your oil is to pay attention to the requirements of your vehicle. Check your owner's manual and look at the maintenance schedule you got when you purchased the vehicle. Another way to know is to watch your indicator lights. Your car may have a message center that displays an oil life percentage, which can give you an idea of the quality of the oil in your engine.
Other signs it's time for an oil change include: oil that is dark in color when you check it, the smell of burning in your cabin, or dark-colored smoke. The latter two symptoms can mean you have an oil leak and could be a symptom of more serious problems that should be treated with caution.
Why Your Oil Needs to Be Changed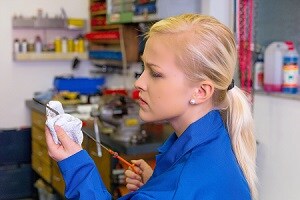 Oil serves as the most important line of defense in your engine. It lubricates the parts to keep them moving freely, and it forms a barrier against heat and friction to keep the engine from suffering unnecessary damage.
As it does its job, oil picks up dirt and particles to clean the engine, but this turns the oil into a thick, dark sludge over time. This sludge can actually harm your engine, which is why it's important to keep your oil fresh by following your manufacturer's recommended oil change interval for your make and model.
Get an Oil Change at Butler Honda
If you're in the areas of Eatonton, Milledgeville, or Sparta, GA, the team at Butler Honda is here to help you keep your car running just like new. Get in touch with us for more information on how often to change the oil in your car, to get on a regular schedule of maintenance, or to make an appointment for service today!