All good things must come to an end, and eventually, you're going to need to change the tires on your car. Buying new tires is vital to your ability to get where you want to go safely. Not only do your tires let your car move, but they provide traction on uneven terrain, and they allow you to keep control of your car when you steer, stop, and go.
One of the most important aspects of getting new tires is making sure that you get ones that are the right size. The size is written right on the side of the tire itself, but many drivers in the Milledgeville, Sparta, and Eatonton areas might not be accustomed to what those letters and numbers mean. Here's how to read tire size and where to go to get new tires when the time comes.
Reading Tire Type
The first letter on your tires is likely a "P." This indicates that your tire is a P-Metric, and it refers to the U.S. standard for passenger vehicles. You could also think of the "P" as meaning "passenger tire." If you see the letters "LT," that means the tire is for a light truck and probably requires higher air pressure on inflation.
Tire Width Rating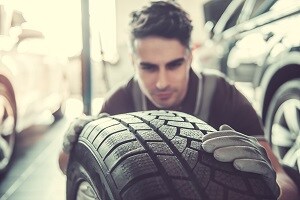 The next number, usually three digits like "215," is the tire's width in millimeters. So, if your tire says "P215," that means it's a passenger tire that's 215 millimeters wide.
Aspect Ratio
Following these first two indicators is a slash followed by a number, then a letter, and then another number. Immediately after the slash is a number that indicates the aspect ratio of tire cross-section to width. What this means is the tire's proportionate height to width. P195/75 for example means that the tire height is 75 percent of the width.
Construction
Next up, you'll see a letter, which, on most passenger vehicles these days is an "R." The R stands for "Radial," and refers to the construction of the tire. It means the tire layers run in a radial direction, crossing the tire.
Diameter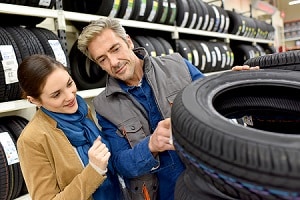 Next is a number referring to the diameter from one end to the other in inches. Putting it all together, a tire with a rating of P175/75R15 means it's a passenger vehicle tire that's 175 millimeters across, has an aspect ratio of 75 percent, is a radial, and is 15 inches in diameter.
Load Index and Speed Rating
There's one more indicator on most tires after the size rating, which tells you the maximum air pressure load the tire can handle and the maximum speed for which it's rated. You can also find the load index in both kilograms and pounds on the sidewall. Most passenger tires have an "H" speed rating, which means they can handle up to 130 MPH (far beyond the speed limit in most places).
Get TLC for Your Tires at Butler Honda
If you have any questions about how to read a tire size, or you need to replace your tires to get back on the roads of Sparta, Eatonton, or Milledgeville, GA, Butler Honda can help. Give us a call or stop by our service center for tire service today!