Oil is the lifeblood of your car, so you need to make sure yours stays in top condition no matter what vehicle you're driving through the Eatonton, Milledgeville, and Sparta areas. Your engine is essentially an extensive collection of large, moving, metal parts. As these parts move, they grind against each other, creating friction and wear. Oil is the lubricant that prevents that friction from being destructive.
Without oil, your engine will effectively destroy itself just through normal operation. Fortunately, it's easy to determine whether or not you need to change your oil, as long as you know what to look for. Learn about the five signs that you need an oil change, and discover what you can do to keep your vehicle running smoothly.
Your Oil Looks Dark
To discover whether or not you need an oil change, the first thing you have to do is take a look. Examine the color of your oil. If it looks dark or dirty, you need to have it changed. Remember, clean oil has more of a honey-like coloring to it, while dirty oil will be blackened and thick. It's generally good practice to do this at least once a month just to see where your oil status is at.
Engine Grinding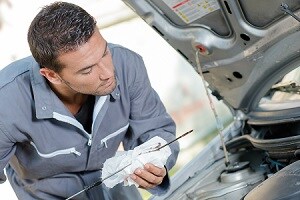 Oil's primary purpose is to keep your engine parts from grinding against one another. When oil gets too old or dirty to do that properly, your engine parts will start grinding, and they'll produce a very noticeable sound. The metal-on-metal contact can be downright piercing at times, and it's an obvious sign you need an oil change. Because of this metal-on-metal contact, you'll also likely feel your car shaking and vibrating to a greater extent than usual.
Indicator Light
A lot of modern vehicles have a dashboard light specifically to indicate that you need an oil change. You can trust this light, so if you see it, go ahead and get your oil changed. Older models tend to lump this issue in with the check engine light, which covers a variety of issues. If your check engine light turns on, be sure to take a look at your oil to see if it needs changing.
Dark Exhaust Smoke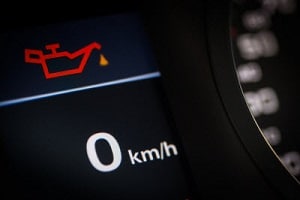 One of the problems you may encounter with your oil is a leak. When oil leaks onto your engine, it can create a lot of dark smoke that gets expelled from your exhaust. This is a huge sign you need to get an oil change-and possibly more, if the leak is widespread enough. Just keep in mind that the translucent exhaust you might see coming out of your car on a cold day is not an indication that you have an oil leak.
Oil Smell
If you get a whiff of oil when you're driving along the road, it's probably coming from your own car. It will generally be a pretty potent smell, and you'll often find it accompanied by gas and exhaust fumes. This occurs because either faulty oil or an oil leak is causing your engine to overheat. Push your vehicle too hard in this condition, and you can even start a fire, so don't put off a trip to the service center if you smell oil.
Get Your Oil Changed at Butler Honda
If you spot any of the signs you need an oil change, you'll have to find a service center in Sparta, Eatonton, and Milledgeville that can help. For quality service you can count on, Butler Honda has got you covered. Honda may be our specialty, but our elite team of technicians can handle an oil change on any make and model. Schedule your service appointment today!