Keeping your brakes in good shape is essential to staying safe on the road. So, if you hear your brakes squeal or squeak when you place your foot on the pedal, you might wonder what's going on and how you should proceed.
Drivers in the Milledgeville, Sparta, and Eatonton areas can understand the potential causes of these noises so that they know when it's time to call for a service appointment. Let's check out the potential problems these sounds can indicate, and learn where you can go to have your brakes serviced.
Servicing Your Brakes

 Unfortunately, there's no easy, single answer to the question "Why do my brakes squeak?" There can be a number of reasons why you're hearing a squealing noise from behind your wheels. It can be simple brake dust, but other times it can be an indicator of worn or glazed brake pads or damaged rotors.
In the end, your brakes usually squeak because your car is letting you know there's a problem that needs to be addressed. It can be an early warning or it can be an indicator of a more serious issue. Regardless, if you hear squeaking, get a service appointment on the books with your local service center ASAP. 
Brake Dust
Brake dust can happen right after you have new brakes installed. Additionally, it's not uncommon for your brakes to squeak a bit for a few days after you have service done. If the noise doesn't fade within a couple days of driving, however, it could indicate a problem that needs to be addressed-be sure to bring your vehicle in for a brake check!
Worn or Glazed Pads
Your brakes work on friction - the brake pads press against the rotors, forcing the wheels to slow and stop your car. Naturally, when this happens it creates heat and friction that wear them down.
If you do a lot of heavy braking, your pads can get smooth from the heat, which is called glazing. As your pads wear down or glaze, the small metal indicator piece that's embedded at the center of the pad is exposed, causing them to squeal, letting you know it's time for new pads.
Warped Rotors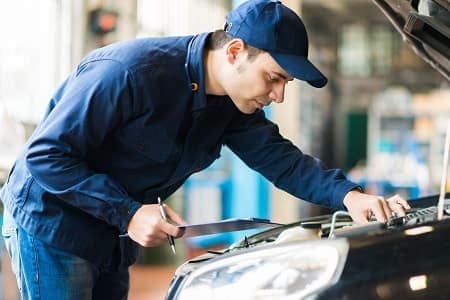 Once your brake pads are well worn, your brake rotors are the next part in line to absorb that aforementioned heat and friction. If squealing turns into grinding, it's likely that your rotors are receiving undue wear, causing them to warp. Get them taken care of as soon as you can.
Get Service for Squeaky Brakes at Butler Honda
If you're in the areas of Eatonton, Milledgeville, or Sparta, GA, and you're wondering, "Why are my brakes squeaking?" you can call on Butler Honda for answers.
Our highly skilled, professional automotive technicians know exactly how to care for your vehicle's brakes. Our service center will have you in, out, and back on the roads squeak-free in no time! Get in touch with us to schedule a brake service appointment today!